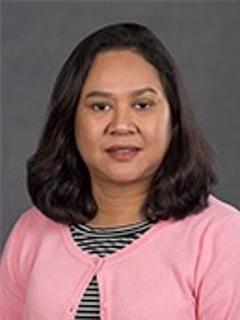 Profile:
WayWay M. Hlaing, MBBS, MS, PhD, FACE, is a Professor of epidemiology in the division of Epidemiology and Population Health Sciences in the Department of Public Health Sciences (DPHS) at the Miller School of Medicine (MSOM) with appointment as a faculty affiliate in the Institute for Bioethics and Health Policy. 
Dr. Hlaing is an educator, researcher, mentor and the Director of the PhD in Epidemiology program in the DPHS.  She currently teaches core epidemiology courses to master's (MPH/MSPH/MS in Biostatistics and MS in Clinical and Translational Sciences), and doctoral students.  She also mentors and leads PhD and MD-PhD students on research, and epidemiology journal club related activities. 
Trained as a chronic disease epidemiologist, she has served as an investigator or a methodologist on numerous federal and foundation funded studies relating to cardiovascular disease, obesity, HIV/AIDS, and substance abuse.  The central theme of her research is the intersection between chronic conditions, risk factors and health disparities.
More recently, Dr. Hlaing's research is devoted to education. Her specific interest is linked between epidemiology (competencies in epidemiology education) and ethics (competencies relating to ethics in epidemiologic research and PH practice). 
She received her medical degree (MBBS) from the Institute of Medicine I in Burma (Myanmar), her Masters of Health Sciences from Western Illinois University, and PhD in Epidemiology from University of South Florida.  
Dr. Hlaing is a member of the Society for Epidemiologic Research (SER), International Epidemiologic Association (IEA), American Public Health Association (APHA) and an elected fellow of the American College of Epidemiology (ACE) or FACE.   She is also an inducted fellow of the Academy of Medical Educators at UM.  She served on the Education Committee of the SER and the National Board of Public Health Examiners (NBPHE) writing and reviewing epidemiology questions for the CPH (Certified Public Health) exams.  She is currently a member of the PhD Council of the Association of Schools and Programs in Public Health (ASPPH) and vice-chair of the Ethics Committee of the American College of Epidemiology (ACE).
Education and Ethics Related Publications
Hlaing WM, Saddemi J, Goodman KW.  Expanding ethics curriculum resources: American
College of Epidemiology's syllabus collection project.  Annals of Epidemiology (Accepted 08/19/2019: Commentary).
Hlaing WM.  Competencies Acquired in Epidemiology Doctoral Programs.  Annals of
Epidemiology 36, 1-4, 2019.
Salerno J, Peters ES, Morain S, Pinney SM, Hlaing WM.  Untangling the Ethical
Intersection of Epidemiology, Human Subjects Research and Public Health.  Annals of
Epidemiology 34, 1-5, 2019.https://doi.org/10.1016/j.annepidem.2019.03.009
D'Agostino, E, Hlaing WM, Stark JH. Teaching on the continuum:  Epidemiology education
From high school through graduate school.  American Journal of Epidemiology
188(6):979-986, 2019.   https://doi.org/10.1093/aje/kwz059
Salerno J, Knoppers BM, Lee LM, Hlaing WM, Goodman KW.  Ethics, big data and
computing in epidemiology and public health.  Annals of Epidemiology 27(5):297-301, 2017.
Salerno J, Hlaing WM, Weiser T, Striley C, Schwartz L, Angulo F, Neslund V.
Emergency response in a global health crisis: epidemiology, ethics, and Ebola
application.  Annals of Epidemiology 26(4): 234-237, 2016.
Hlaing WM.  Regarding educating epidemiologists (Letter to the Editor).  Annals of
Epidemiology 24(7): 558-559, 2014.