Educator, Rhetorician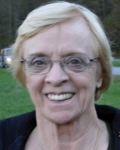 Dr. Julienne Prineas, a longstanding friend of and collaborator with the UM Ethics Programs, died January 30, 2010, in Winston-Salem, NC.
Dr. Prineas was the elder daughter of Mr. Winsleigh Swynny and Gladys (June) Swynny (nee Johns). She is survived by her beloved sister, Yolande Oakley of Malacoota, Australia; a brother, Phillip Swynny of Sydney, Australia; her husband of 49 years, Dr. Ronald Prineas, Professor Emeritus at Wake Forest University School of Medicine and former chair of UM's Department of Epidemiology and Public Health; and two sons and 2 daughters: Matthew Prineas of Silver Spring, MD; Anna Catanese of Mechanicsville, VA; John Prineas of Iowa City, Iowa; and Miranda Austin of Atlanta, Georgia.
She is also survived by her loved sister-in-law Eileen Prineas and brothers-in law Dr. John Prineas and Graham Oakley, in Australia, and by her loved daughters-in-law, Katherine Davis and Sarah Prineas (Bing), and loved sons-in-law, Michael Catanese and Walter Austin. Also surviving her are her 7 grandchildren, Benjamin, Andrew and Daniel Catanese; Maud and Theodore Prineas; and Harmon and Vivian Austin; and by her nieces and nephew Claire (MacPhail), Sara (Wurzer), and Peter Prineas; Celeste and Jade Oakley; and grand-nieces and -nephews.
Dr. Prineas started her career as an elementary school teacher in Sydney and Perth, Australia, and Glasgow, Scotland. Later, after her children were in school when the family moved to Minneapolis Minnesota, still caring lovingly for her family, at the age of 36 she returned to further education at the University of Minnesota and obtained BS, BA, and MA degrees and a PhD degree in English Rhetoric . She later taught at Florida International University and established and directed a center for scientific grant writing at the University of Miami. In 1996 she started an antiquarian book dealership and continued her studies in rare books in courses at the University of Indiana in Bloomington and in Seattle.
Her passions were family first and reading and writing. In the final and most debilitating years of her illness, reading and writing became increasingly difficult, and finally impossible. Dr. Prineas suffered from Primary Progressive Aphasia without dementia. Her brave efforts to convey love and support to her family never wavered, however. Dr. Prineas was a warm, nurturing mother and wife of generosity and gentleness and will always be cherished in the memories of her family as they deal with their loss.
Private funeral services were held at Hayworth-Miller Silas Creek Chapel with Rev. Ray Austin officiating. Her family requests that instead of memorials or flowers that donations be made in her name to: The Association for Frontotemporal Dementias, Radnor Station Building 2, Suite 200, 290 King of Prussia Road, Radnor, PA 19087.