Medical Director Emeritus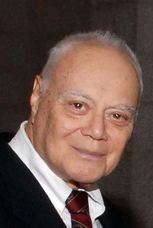 Mervin H. Needell, MD, MA, who served as the UM Bioethics Programs' first Medical Director, died October 24, 2014. He was 90.
Dr. Needell was present at the UM Bioethics Program's founding and participated in its earliest activities. He helped introduce bioethics into third-year medical clerkships and ethics rounds in the Department of Family Medicine. He also taught bioethics at Barry University and at Nova Southeastern University from 1991 to 2000.
He was uncompromising in his conviction that the improvement of critical thinking skills was essential to the education of physicians.
Trained as a urologist, he had retired from practice after 31 years, in 1985, and then studied philosophy at Yale University, receiving a BA degree in philosophy; he pursued additional study at the Kennedy Institute for Bioethics at Georgetown University, where he was a student of Dr. Edmund Pellegrino, and received an M.A. in bioethics.
In addition to his role as the Bioethics Program's Medical Director, he served on the School of Medicine's voluntary faculty as Clinical Professor of Urology.  He was a Fellow of the American College of Surgeons. His CV lists several publications in the urology literature. Dr. Needell also published papers on philosophical ethics and an autobiographical book, Grandpa Merv's Memoirs. He loved the opera; click here to see "Operatic Arias Involving Ethical Dilemmas," his notes for a larger project.
Obituary from the Needell family
Mervin H. Needell, MD, was born July 23, 1924 in New Jersey, and died on October 24, 2014. Dr. Needell moved to Florida in 1955 and practiced medicine as a urologist in Miami-Dade County for 31 years, also serving on the voluntary faculty of the University of Miami School of Medicine as Clinical Professor in Urology. He retired from clinical practice to undertake seven years of additional academic study. Upon returning to South Florida he accepted an academic position as philosopher and educator at the University of Miami Bioethics Program, holding university appointments of Adjunct Professor and Medical Director.
During World War II he served with the 895th Medical Clearing Station of the 6th Army in New Guinea and the Philippines. He graduated from Hahnemann University School of Medicine in 1950, interned at Newark (NJ) Beth Israel Hospital, and was resident surgeon at the University of Buffalo School of Medicine, and Senior Cancer Research Urologist at the Roswell Park Memorial Institute in Buffalo, NY. He received his bachelor's degree from Yale University and master's degree in philosophy form Georgetown University. Dr. Needell was a Fellow the American College of Surgeons, Diplomate of the American Board of Urology, member of the Dade County Medical Association, Florida Medical Association, American Medical Association, American Urological Association, Florida Urological Society, president of the Greater Miami Urological Society, Florida Bioethics Network, and American Society for Bioethics and Humanities. He was president of the medical staff of Parkway General Hospital, chief of urology at Palmetto General Hospital, and National Vice President of Phi Lambda Kappa Medical Fraternity.
In addition to private medical practice and medical teaching, Dr. Needell served during a span of years with Project Hope and also as medical missionary physician and surgeon successively in equatorial Africa, Nicaragua, Colombia, India, and New Guinea. He worked with Dr. Albert Schweitzer at his mission hospital in Lambarene, Gabon. Dr. Needell has authored numerous journal publications on medical as well as on philosophical subjects, and for several years he also taught bioethics as adjunct professor of philosophy at Barry University. He served on the Board of Directors of the Guardianship Program of Dade County and the Executive Committee of the United Health Foundation of United Fund of Greater Miami.
Dr. Needell is survived by his wife of 64 years, Elaine F. Needell, MD, and by two sons, William M Needell, MD (Deb) of Colorado and James E. Needell, JD, MD (Katie) of North Carolina, and two daughters, Barbara Needell Preslier, DMD (Herb) of Weston, Fl and Nancy Needell Knopf, MD (Siegfried) of New York City, and their families, including seven grandchildren. He was predeceased by a brother, Stanley S. Needell, MD, of Miami.