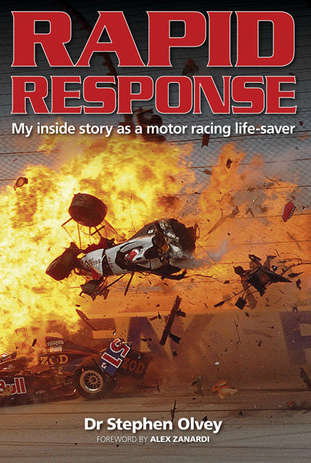 The UM Ethics Programs have fledged a project to explore issues of sport, ethics and society. Here is a listing of events.
Special Film Event: Motorsports, Ethics, and Safety

Dr. Stephen Olvey is a pioneer in motorsport safety. His book, Rapid Response, has been made into a film that tells the story of medical and safety professionals who refused to accept the high mortality rate among American race car drivers, fundamentally altering the history of motorsports. The film was shown online and followed by a Q&A with Dr. Olvey, who talked about links between ethics and safety.
> December 7, 2021. Click here to stream video. 
Covid, Sports, and Ethics: Balancing Safety and Sustainability

The COVID-19 pandemic has not diminished interest in intercollegiate – indeed, any – sports. But sporting events are public gatherings, and the virus thrives in them. Moreover, there is some evidence that the virus can cause heart problems in student athletes. Panel featured three NCAA Atlantic Coast Conference athletic directors: Blake James, University of Miami; Heather Lyke, University of Pittsburgh; and Vince Tyra, University of Louisville. Moderator: Kenneth W. Goodman, PhD, Director, UM Institute for Bioethics and Health Policy.
> October 12, 2020. Please click here to stream video.

Annual Bioethics Conference: Football Ethics

The Institute's annual bioethics conference, in conjunction with the Florida Bioethics Network, in 2019 featured a special session on football with UM Drs. Lee Kaplan Stephen Olvey and Dr Wiliam Thompson of the Florida State University.
> April 12, 2019. Click here to view program.

Dialogue in Research Ethics: Challenges in Sport Medicine, From Research to Team Care Coordination

Dr. Lee Kaplan is the director of the University of Miami Sports Medicine Institute. He is Professor of Orthopaedics, Biomedical Engineering, and Kinesiology and Sports Sciences at the University Of Miami Miller School of Medicine, and the Petra and Stephen Levin Endowed Chair in Sports Medicine. 
> October 5, 2018. Click here for the program notice.

Dialogue in Research Ethics: When Science Meets Sport: Helmets, Head Injury and Public Policy
Dr. Stephen Olvey, a critical care physician and Associate Professor of Neurology, has long been interested in concussion and the issues raised by inadequate head protection in football.
> September 25, 2015. Click here for the program notice.