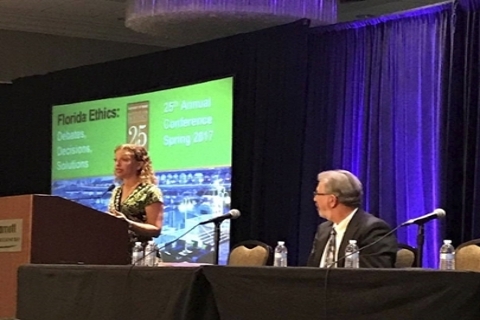 The Florida Bioethics Network (FBN) is dedicated to the understanding and resolution of ethical and legal problems arising in health care and research in Florida's hospitals, hospices, nursing homes, managed care organizations and teaching institutions. The FBN can help with a variety of health care organization ethics education needs.
The FBN can assist you with an educational activity tailored to your institution's particular needs.  These activities may include lectures for your staff or the community, workshops for your ethics committee, CME and CNE programs, and conferences.
---
TOPICS
Developing and Running a Hospital Ethics Committee

Taking Patient Rights Seriously:  The Value of a Comprehensive Patient's Rights Program

Effective Clinical Committee Consultations: Avoiding the Common Mistakes

Reviving the Non-Functioning Ethics Committee

Advance Directives: Avoiding the Problems

Privacy and Confidentiality – Making Practical Sense of HIPAA

Using Social Worker Proxies for Medical Decisions

The Recurring Ethical Problems Surrounding Withdrawal of Life-sustaining Treatment

Effectively Addressing Gender and Ethnicity Issues in the Healthcare Setting

Medical Futility:  When Patients and Families insist on Medical Procedures that Do Not Work

Stem Cell Research

Lessons from the Schiavo Case
---
SERVICES
For assistance with conferences, workshops or presentations and for more information about possible topics, advice on developing an educational program, speaker availability and costs of educational activities please call or e-mail:
If you want to learn more about the Florida Bioethics Network, please visit the FBN website.