Director, Division of Services for Children with Special Health Needs, Maternal Child Health Bureau, U.S. Health Resources & Services Administration
Director, Population Health Ethics; Professor of Clinical Pediatrics, University of Miami Miller School of Medicine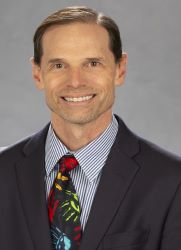 Dr. Brosco is a clinician-educator who contributes to science by translating evidence-based clinical and organizational practice into ethically optimized public policy. In October 2022, he was named division director at the Division of Services for Children with Special Health Needs (DSCSHN), part of the federal government's Maternal Child Health Bureau (MCHB) in the Health Resources and Services Administration (HRSA). At DSCSHN Dr. Brosco leads a team tasked with ensuring that every child in the U.S. receive the medical care and family support they need to play, go to school, and grow up to be healthy and productive adults.

His broad areas of interest are the organization of health care services for children with special health care needs, the education of professionals in family-centered, interprofessional practice, and public policy regarding public health programs such as newborn screening. In each of these areas, Dr. Brosco brings together three broad elements of his training and professional responsibilities: (1) scholarship in history and ethics; (2) practical experience as a clinician, educator, and administrator; and (3) leadership in state and national public advisory groups.
Specific projects include an analysis of the history of health care for children in early 20th century Philadelphia, the historical epidemiology of intellectual disability, and the history of newborn screening in the US. With Diane Paul, he is co-author of The PKU Paradox: A Short History of a Genetic Disease (Johns Hopkins Press, 2013).
Dr. Brosco, elected a member of the American Pediatric Society in 2020, continues to practice and teach general pediatrics and developmental-behavioral pediatrics. From 1997 through 2022, he led an interdisciplinary team that assesses children with neurodevelopmental disorders such as autism and intellectual disability. Dr. Brosco continues to contribute to medical student and pediatric resident training in ethics/professionalism and in development-behavioral pediatrics. In the 2010s he directed the MCHB-funded Leadership Education in Neurodevelopmental Disabilities (LEND) program in the Mailman Center for Child Development. Dr. Brosco was an Arsht Distinguished Ethics Faculty Fellow (2012-2015) and serves as Chair of the Pediatric Bioethics Committee at Jackson Memorial Hospital.
Dr. Brosco has held a series of leadership positions for the State of Florida Title V Program (Children's Medical Services), which seeks to improve the health of children with special health care needs (CSHCN). From 2017-19 he was Florida's Deputy Secretary of Health for Children's Medical Services, overseeing Part C Early Interventions programs, child protection teams, newborn screening, and Florida's health care plan for CSHCN. He was the state's Title V Director for CSHCN before assuming his position at the federal Division of Services for Children with Special Health Needs.
Dr. Brosco has also been active in national health policy groups, such as the Advisory Committee on Heritable Disorders in Newborns and Children (Department of Health and Human Services) and the National Workgroup on Standards for Systems of Care for Children and Youth with Special Health Care Needs (Association of Maternal and Child Health Programs/National Academy for State Health Policy). In 2019 he was awarded a Maternal and Child Health Bureau Director's Award for noteworthy national level contributions to the health of infants, mothers, children, adolescents, and children with special health care needs.
Selected Publications
---
Contact Information 
Email: jbrosco@miami.edu 
Tel:  305-243-3371
Fax: 305-243-5978
Mailman Center for Child Development 
University of Miami Miller School of Medicine
Department of Pediatrics PO Box 016820 (D-820)
Miami FL 33101-6820