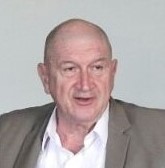 Pablo Guadarrama González is Professor of Philosophy at Universidad Nacional de Colombia, Universidad Católica de Colombia as well as Universitá degli Studi Di Salerno (Italy).
He is a member of the Academy of Sciences of Cuba, Doctor in Sciences (Cuba) and Doctor in Philosophy (Germany), as well as Doctor Honoris Causa in Education (Peru) and Honorary Professor at the Universidad Central de Las Villas, Santa Clara, Cuba.
He is the author of several books on the theory of culture and on the history of Latin American philosophical thought. He has been a speaker at many international conferences and has taught graduate courses in several Latin American universities, as well as in Germany, Spain, Russia, Italy, Japan, and the USA.
Pablo Guadarrama has visited UM several times: