Ethics Consultant; Associate Professor of clinical Neurology and Neurosurgery, University of Miami Miller School of Medicine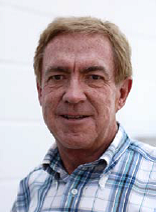 Dr. Stephen Olvey is an associate professor of clinical Neurology and Neurosurgery at the University of Miami Miller School of Medicine. He is vice chair of the University of Miami Hospitals and Clinics Ethics Committee and the Jackson Health System Adult Ethics Committee.
He served as the Director of the Neuroscience Intensive Care Unit at Jackson Memorial Hospital for 25 years. He remains active in motor sports as a member of the Fédération Internationale de l'Automobile Medical Commission, a consultant to Indy Car Series and Motor Sports Director of the University of Miami Concussion Program.
Dr. Olvey graduated from Indiana University Medical School in 1969 and soon thereafter became the Assistant Medical Director of the Indianapolis Motor Speedway. Three years later, he developed the first U.S. traveling motorsports medical team for the United States Auto Club (USAC).  When Championship Auto Racing Teams (CART) separated from USAC, he became CART's Director of Medical Affairs until 2003, when the original series became Champ Car. In 1982, Dr. Terry Trammell joined Olvey at CART and they have worked closely together ever since. Additionally, Olvey developed the medical program for the Circuit of Americas in Austin, Texas, as Chief Medical Officer for four years.
He has published several articles on motor sports medicine, often collaborating with Dr. Trammell. His primary interests are traumatic brain injury and concussion, including related ethical issues. He has also authored two books, including Rapid Response, an autobiography of his career in motor sport medicine. A film based on the book premiered in Coral Gables in 2019; it is available on Amazon (subscription required). He is a member of the Scientific Advisory Committee for National Organizing Committee for Safety in Athletic Equipment (NOCSAE) which meets annually. Dr. Olvey was inducted into the Motorsports Hall of Fame. Dr. Olvey and his colleague, Dr. Terry Trammell, were instrumental in improving medical services at the world's race tracks.

Selected Publications
---
Contact Information 
E-mail: solvey@miami.edu
Tel:  786-299-1550
Fax: 305-243-6416
Soffer Clinical Research Ctr
1120 NW 14th St, Room 1343
Miami, Florida 33136-2107